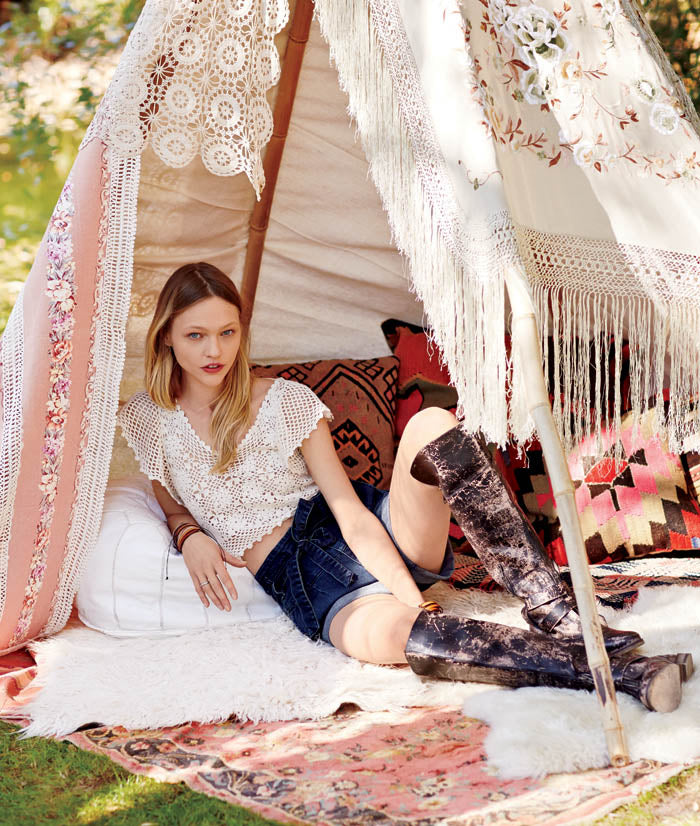 Effortless Elegance: Embracing Ulla Johnson's Signature Style
Ulla Johnson is a big name in the fashion world, and for good reason. Her unique approach blends three major styles: bohemian, romantic, and playful. When you see her designs, you can't help but think of freedom, beauty, and a kind of effortless classiness. The bohemian element gives you a sense of being relaxed and free-spirited, often featuring easy-to-wear and loose-fitting designs. Then there's the romantic touch, seen in the use of ruffles, lace, and soft, flowing fabrics, that adds a sense of timeless beauty. Lastly, she sprinkles in some playful details that make each piece stand out in a delightful way. All these elements come together to create clothes that aren't just fashionable but also deeply expressive.
Free and Easy: The Bohemian Touch
Ulla Johnson's take on bohemian style perfectly captures the essence of being relaxed and free. Her clothes are designed for comfort, featuring loose fits and easy-to-wear shapes. These aren't just clothes for staying in; they make you feel like you could head out on an adventure at a moment's notice. Ulla Johnson often chooses earthy colors that remind you of nature, like various shades of brown and green. These colors add to the relaxed, down-to-earth vibe of the clothing. What makes her designs even more special are the detailed touches she adds. You'll find embroidery, some fringes, or perhaps even some beads. So, if you wear Ulla Johnson's bohemian style, you're not just putting on clothes; you're embracing a lifestyle that values freedom, comfort, and a touch of artistic flair.
Romantic Elements: Adding Feminine Grace
Romantic style means clothes that make you think of love and beauty. Ulla Johnson loves to add romantic touches to her clothes. This means you'll see things like soft ruffles, lace, and flowing shapes in her designs. These elements add a feminine touch, making you feel beautiful and timeless. It's as if each piece tells a story of grace and charm, making you feel like you're in a fairy tale.
Playful Details: Making Clothes Fun
Ulla Johnson likes to add fun, playful details to her clothes. These could be unique prints or unexpected decorations that make you smile. These playful touches make her clothes different and interesting. They give you a sense of joy and make your outfit stand out in a fun way.
Feeling Through Fabric: The Importance of Texture
The kind of fabric used in clothing matters a lot, and Ulla Johnson knows this. She uses high-quality materials like silk and lace that not only look good but feel great to touch. The texture adds to the overall look, making the clothes more interesting and comfortable to wear. You're not just wearing a piece of cloth; you're experiencing something that feels good against your skin.
Easy Elegance: The Signature Look
If you could sum up Ulla Johnson's style in two words, it would be "easy elegance." Her clothes are both simple and fancy, making you look and feel effortlessly stylish. This balance of different styles — bohemian, romantic, and playful — creates a unique look that is easy to spot. You'll feel confident and beautiful, without it seeming like you're trying too hard.
Clothes for All Times: Versatility is Key
One of the best things about Ulla Johnson's clothes is how versatile they are. Despite their unique look, you can wear them on different occasions — from a casual day out to a formal evening event. This makes them a good investment, as you can enjoy them for a long time. It also shows that Ulla Johnson is committed to making fashion that is long-lasting and not just a one-time trend.
Key Takeaways
Ulla Johnson's fashion is not just about clothes; it's about letting you express who you are. Her mix of bohemian freedom, romantic beauty, and playful details creates a unique style that lets you be yourself. By focusing on texture and quality, she also makes sure that you're comfortable and feeling good in what you wear. Her designs are versatile, meaning they can be part of your wardrobe for a long time.
So, if you want fashion that is stylish yet comfortable, unique but timeless, Ulla Johnson's designs could be just what you're looking for. Whether you want to feel adventurous, beautiful, or just happily yourself, stepping into an Ulla Johnson outfit can make that happen.
Discover your unique style with Ulla Johnson's effortlessly elegant designs—shop now at Prefontaine to elevate your wardrobe.