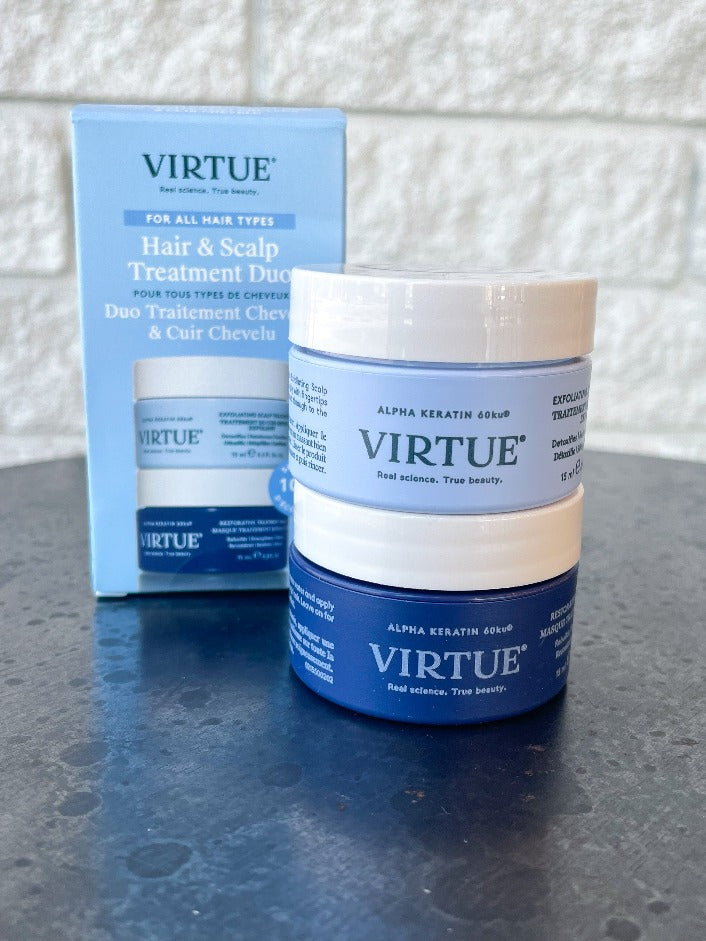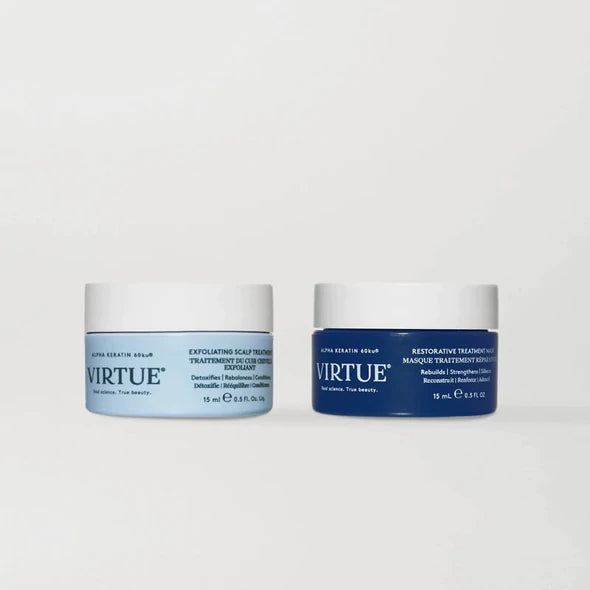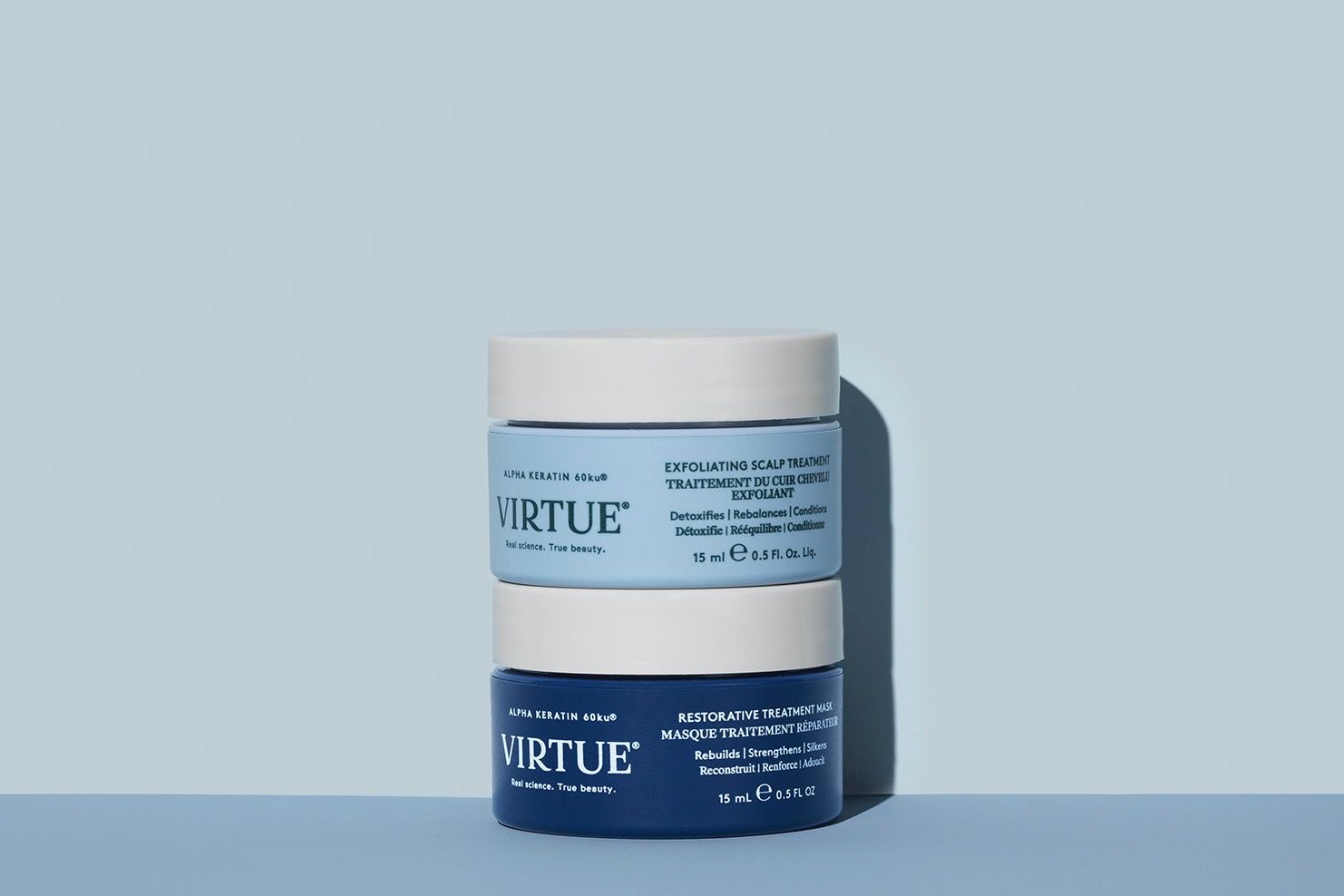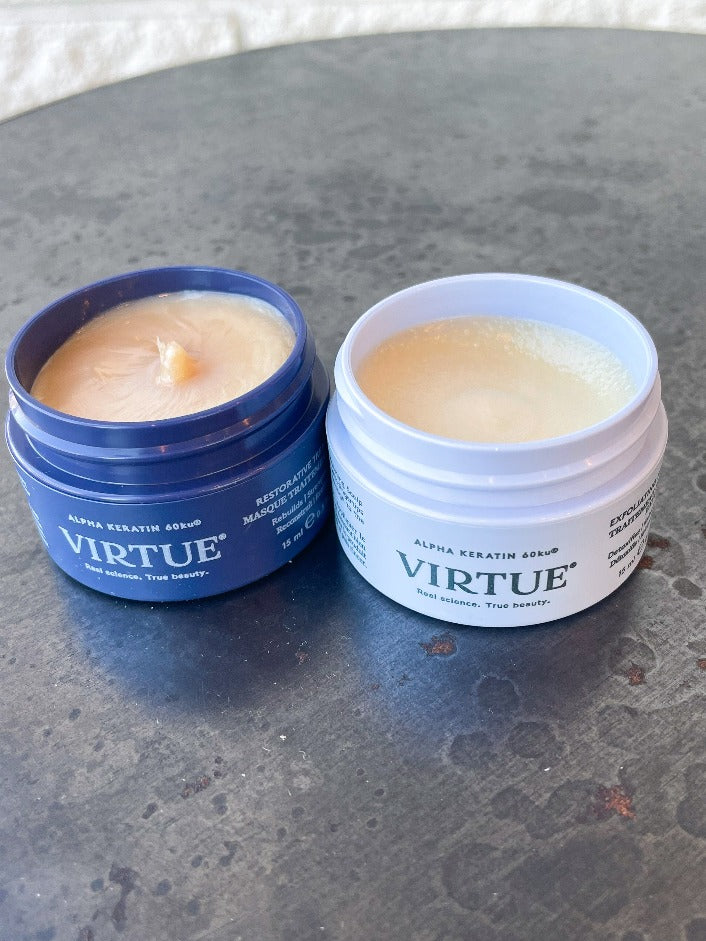 Hair + Scalp Reset Duo
Sale price

$27.00
Regular price
(/)
Say goodbye to damaged hair. Our Hair & Scalp Reset Duo is the perfect hair reset companion for anyone who wants to restore their hair to its original health. This set includes our best-selling products, Exfoliating Scalp Scrub and Restorative Treatment Mask, which work together to care for the scalp and encourage healthy hair growth. Formulated with our Alpha Keratin 60ku technology, Virtue Hair and Scalp Duo can repair any damage done to your hair strand.

The Exfoliating Scalp Scrub in this kit neutralizes the scalp and strips off accumulated dirt and sebum. For best results, apply the Exfoliating Scalp Scrub for 2-3 minutes on the scalp and hair after shampooing once or twice a week. No need to wash or use hair conditioner after.

The Restorative Treatment Mask, on the other hand, nourishes and hydrates hair keeping it soft and shiny. For best results, apply the Restorative Treatment Mask for 2-3 minutes on hair after shampooing once or twice a week—no need to use a hair conditioner after. Rinse well afterward.

Jewelry, beauty, and home fragrance items are final sale.
0.5 fl oz each
Achieve Healthier, Shinier Hair Instantly with Virtue Hair
Healthy and vibrant hair is the ultimate crowning glory we all aim for. That's why we are excited to introduce Virtue Hair,
a revolutionary line of hair products designed to instantly help you achieve healthy and shinier hair. With a combination of advanced Alpha Keratin 60ku technology and nourishing ingredients, Virtue Hair products work to restore dry, damaged, and colored hair by replenishing the natural keratin protein. The result is a beautiful, glossy mane that looks and feels healthy. Whether you're looking for a shampoo, conditioner, or treatment, Virtue Hair covers you. Trust us; your hair will thank you.

experience the transformative power of virtue hair and achieve healthier shinier in an instant. with a commitment to using only highest quality ingredients products work at molecular level repair strengthen every strand hair. whether you looking restore damaged locks control frizz or add volume your has solution for you. from shampoos conditioners styling their innovative formulas are designed enhance natural beauty while providing long-lasting results. treat yourself ultimate care see difference yourself.

virtue hair has revolutionized the industry with its extraordinary approach to healthier shinier hair. their innovative formula focuses on science of alpha keratin a unique protein blend that can transform dull and damaged strands into silky smooth locks just one application. team is passionate about creating products work make you feel good what putting your head. from sleek packaging commitment sustainability it easy see why become go-to for those quest beautiful healthy try instant transformation yourself.
The Miracles of Virtue Hair: The Gateway to Exceptional Hair Health & Beauty
Introducing Virtue Hair, the epitome of groundbreaking hair care. No matter your hair type – be it fine or thick, wavy, or straight – every strand deserves exceptional care and attention. Our premium collection of Virtue Hair products delivers that through a harmonious marriage of science and nature, offering hair solutions that restore, enrich, and magnify the innate beauty of your hair.
The Importance of Hair and Scalp Health
Hair is often seen as a direct representation of our identity and personality. But beyond aesthetics, it's also a reflection of our health. Both hair and scalp health are intertwined, and ignoring one can impact the other. The key to vibrant, beautiful hair lies in a nourished and healthy scalp.
The Benefits of Virtue Hair Products
When you get a virtue hair product, you experience the following benefits: 1.
estoring Hair Health
Restoring hair to its healthiest state is a cornerstone of the Virtue Hair philosophy. Our products are formulated with a potent combination of proteins and nurturing ingredients that rebuild each hair strand from within, strengthening your hair structure and texture. 2.
Promoting Hair Growth
Several internal and external factors can impede healthy hair growth, from stress and hormonal changes to environmental damage. Virtue Hair products are designed to counteract these challenges by invigorating the scalp, stimulating hair follicles, and encouraging robust and plentiful growth. 3.
Nourishing The Scalp
Healthy hair begins with a healthy scalp. Virtue Hair understands this often neglected aspect of hair care and formulates products specifically targeted to cleanse, exfoliate, and nurture your scalp. This sets the foundation for stronger, happier, and healthier hair.
Detailed Product Description: Hair & Scalp Reset Duo
Our Hair & Scalp Reset Duo is an innovative combination designed to reset your hair and scalp health. This duo consists of the Purifying Scalp Cleanse and the Restorative Scalp Serum, both created with carefully chosen ingredients. .
Purifying Scalp Cleanse
This is a first-of-its-kind, pre-shampoo treatment formulated to detoxify and rejuvenate your scalp. Enriched with pink clay and activated charcoal, it gently exfoliates the scalp, absorbing excess oils, and removing impurities, and product build-up. It leaves your scalp perfectly primed for nutrient absorption. .
Restorative Scalp Serum
Our Restorative Scalp Serum, the second step in the Reset Duo, is a concentrated, lightweight serum packed with active nutrients like hyaluronic acid and niacinamide. It hydrates, soothes, and rebalances your scalp while promoting overall scalp and hair health.
Why Choose Virtue Hair Products: Diving Deeper
Virtue Hair products go beyond providing quick fixes. Instead, they offer a long-term, sustainable approach to hair health. Our formulations are devoid of harmful substances like parabens, sulfates, and synthetic dyes, making them safe for all hair types. We have faith in the potency of nature combined with cutting-edge scientific research to provide superior results.
User Guide: How to Use The Hair & Scalp Reset Duo Effectively
Start your hair transformation journey by applying a generous amount of the Purifying Scalp Cleanse onto wet hair and scalp. Massage gently and rinse thoroughly. Follow with the Restorative Scalp Serum, applied directly to the scalp in sections, then gently massaged in. For the most noticeable results, we recommend using this duo twice a week.
Words from Users: Testimonials & Reviews
Our customers' experiences speak volumes about the efficacy of Virtue Hair products. "Throughout my life, I struggled with dry, brittle hair. But ever since I started using Virtue Hair products, I have experienced a noticeable difference. My hair now feels stronger, shinier, and healthier!" – Emma, a satisfied customer. "I was initially skeptical about the Hair & Scalp Reset Duo, but now I'm glad I took the leap. My scalp feels invigorated, and my hair looks more lustrous and fuller." – Ryan, a loyal customer. •
: Commitment to Sustainability
Virtue Hair believes in caring not just for our customers' hair, but also for our planet. Our products are cruelty-free, and we strive to reduce our environmental impact through sustainable practices and packaging.
Buy Your Favorite Virtue Hair Products NOW!
Embark on the journey to luscious, healthy hair with Virtue Hair products. From repairing damaged hair to nourishing your scalp and promoting vigorous hair growth, our collection offers a holistic approach to hair care. Become part of our community today and discover the secret to radiant, vibrant hair.
Pickup available at 914 Lake Air Drive
Usually ready in 1 hour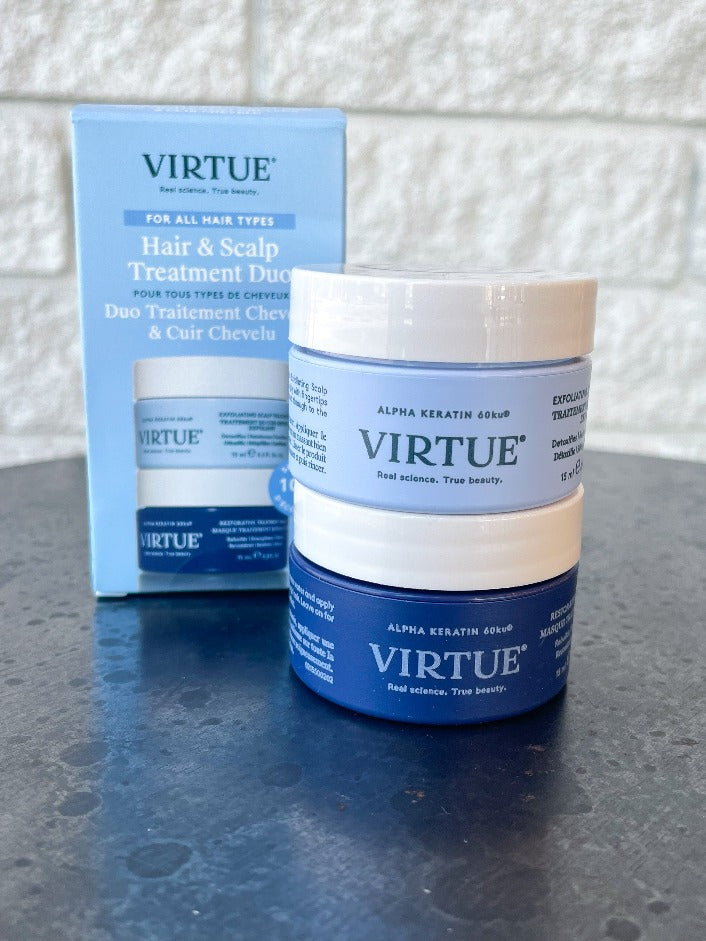 914 Lake Air Drive
Pickup available, usually ready in 1 hour
914 Lake Air Drive
Suite A
Waco TX 76710
United States
+12547419794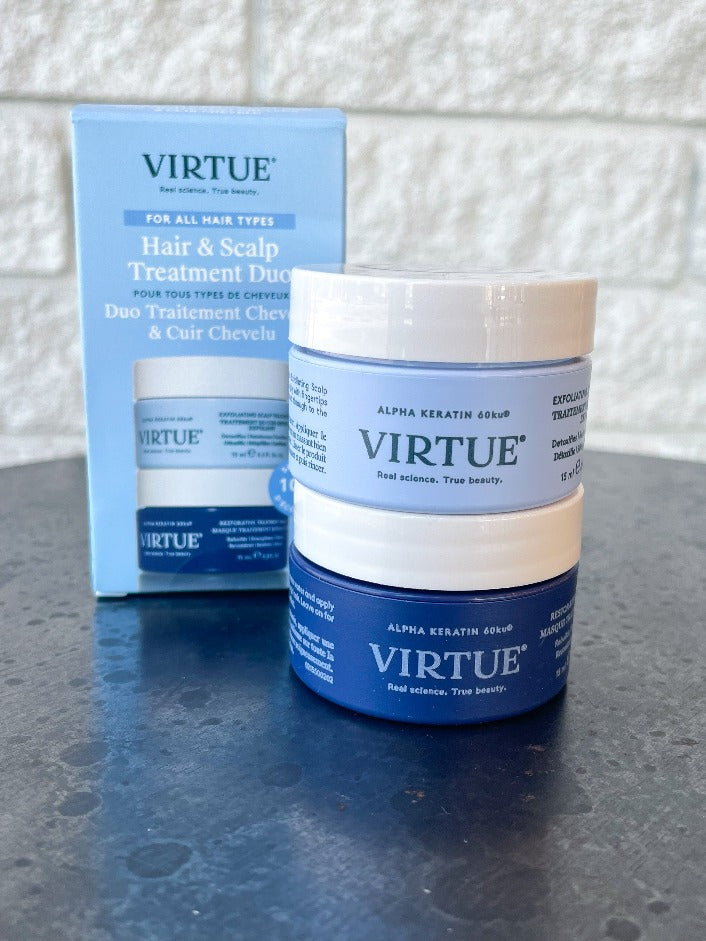 Hair + Scalp Reset Duo
Sale price

$27.00
Regular price
Choose options