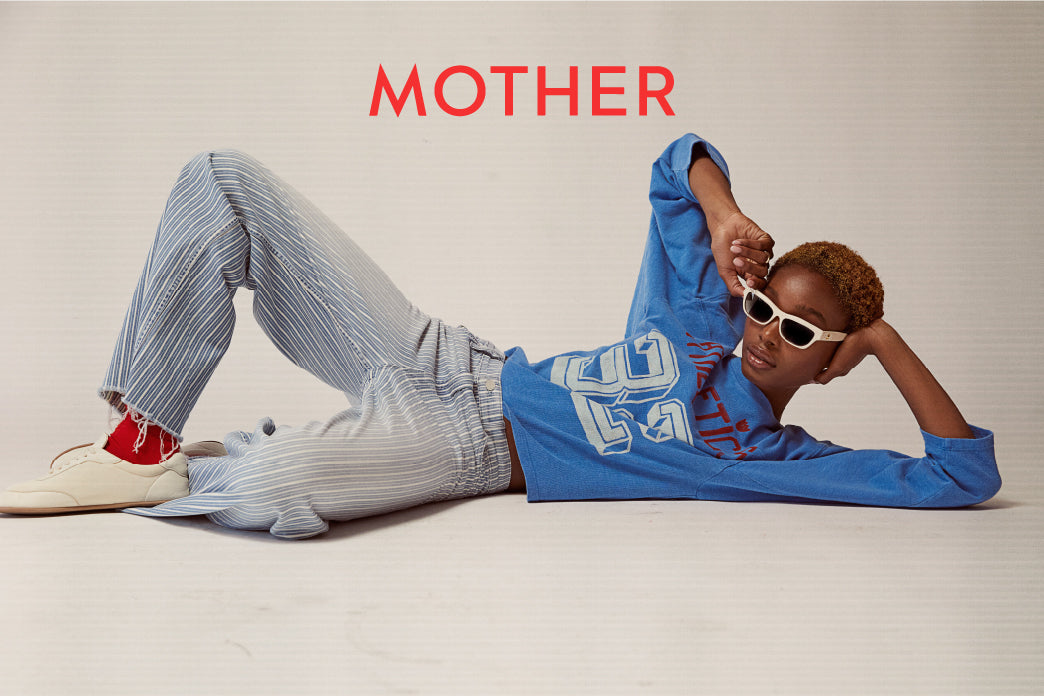 Mother Denim's Best-Selling Fits: Finding Your Perfect Pair of Jeans
Renowned for its innovation, quality, and style, Mother Denim is an iconic brand in the world of denim. It excels in crafting jeans that boast both impeccable aesthetics and unparalleled comfort. Mother Denim has gained a reputation for its top-selling fits that cater effortlessly to diverse body types and individual tastes. Whether you're in search of the ultimate pair of jeans, the brand's extensive collection ensures a match for every preference.
With a commitment to producing not just visually appealing, but also supremely comfortable jeans, Mother Denim stands as a beacon of excellence in the denim industry. Your perfect pair of jeans awaits within their carefully curated selection, making your quest for the ideal denim companion a journey worth undertaking.
The Flare of Flattery: "The Looker"
Among Mother Denim's array of celebrated fits, "The Looker" stands out as a true crowd-pleaser. This versatile style effortlessly marries comfort with a touch of vintage flair, making it a go-to option for denim enthusiasts. The hallmark of The Looker is its slim fit through the hips and thighs, transitioning into a subtle flare at the leg opening. This design choice imparts an elongating effect that enhances the wearer's silhouette, creating a flattering visual appeal.
Whether your agenda includes a night out on the town or a laid-back day with friends, "The Looker" remains a dependable choice. The balance it strikes between style and comfort ensures that you'll look and feel your best no matter the occasion. Its adaptability to various settings and events makes "The Looker" a staple in any denim collection. Its timeless design and attention to fit cater to a wide range of preferences and body types, cementing its reputation as one of Mother Denim's best-selling fits.
Classic Chic: "The Insider"
For devotees of classic, enduring styles, "The Insider" reigns supreme as the quintessential choice. This high-rise fit is meticulously designed to sit comfortably at the waist, producing a sleek and sophisticated silhouette. The straight leg cut maintains a clean and polished appearance, easily harmonizing with a diverse array of outfits. "The Insider" emerges as an incredibly versatile option that effortlessly transitions from daytime elegance to nighttime allure, rendering it a cornerstone of any denim ensemble.
Its timeless allure stems from its ability to align with various fashion sensibilities and personal styles. This adaptability renders it a must-have in every denim enthusiast's wardrobe, consistently delivering a refined and ageless look. "The Insider" encapsulates the essence of classic chic, making it a trusted choice for those who gravitate towards enduring elegance.
Effortless Elegance: "The Hustler Ankle Fray"
For those enamored by the effortlessly chic aesthetics often sported by models off-duty, "The Hustler Ankle Fray" answers the call. This mid-rise style boasts a cropped length and a slight flare at the ankle, effectively fashioning a look that strikes the perfect balance between relaxed and refined. The understated fray detailing lends an edgy touch to the overall design, elevating its appeal for those who embrace a laid-back yet fashionable vibe.
"The Hustler Ankle Fray" captures the essence of casual elegance, delivering an air of sophistication while retaining an approachable aura. Its versatility shines through as it seamlessly adapts to both daytime escapades and evening outings, making it an ideal fit for the modern woman who seeks an adaptable and stylish denim companion.
Modern Comfort: "The Tomcat"
Comfort takes center stage without sacrificing style in "The Tomcat," a fit tailored to those who prioritize ease of wear. This relaxed yet meticulously crafted silhouette pays homage to vintage-inspired denim while infusing it with contemporary flair. The high-rise waistline and subtly tapered leg collaborate to create a harmonious look that exudes both confidence and modernity.
Whether the day calls for errands around town or quality time with friends, "The Tomcat" provides the perfect amalgamation of comfort and trendiness. The careful balance it maintains ensures that wearers can navigate their activities with ease while exuding an unmistakable air of style. "The Tomcat" exemplifies the brand's dedication to combining modern sensibilities with comfort-focused design, making it a testament to Mother Denim's commitment to meeting the demands of the contemporary denim aficionado.
Relaxed Sophistication: "The Dazzler"
In the realm of boyfriend jeans, "The Dazzler" reigns as the epitome of relaxed sophistication. With a mid-rise fit and a straight leg sporting a slightly loose silhouette, this style effortlessly captures the essence of an understated coolness. "The Dazzler" embraces its relaxed fit, which is tastefully accentuated by subtle distressing and a cuffed hem, ultimately yielding a versatile choice that perfectly encapsulates the sought-after "effortlessly undone" look.
For enthusiasts of effortlessly chic ensembles, "The Dazzler" stands as an essential addition to the denim lineup. Its relaxed yet refined aura seamlessly caters to a wide array of fashion preferences, ensuring that it remains a staple in the modern woman's collection. The blend of sophistication and nonchalance makes "The Dazzler" an emblem of casual elegance, embodying the spirit of denim that effortlessly complements any style narrative.
Finding Your Perfect Pair
As you embark on the journey to find your perfect pair of jeans, Mother Denim's best-selling fits offer an array of options to suit your style, body type, and comfort preferences. Whether you are drawn to the timeless elegance of "The Insider," the vintage-inspired charm of "The Tomcat," or the laid-back chic of "The Hustler Ankle Fray," Mother Denim ensures that your denim dreams come true.
Remember, the key to finding your ideal fit is to consider both style and comfort. Mother Denim's dedication to crafting high-quality denim ensures that you don't have to compromise on either. So, dive into the world of Mother Denim's best-selling fits and discover the pair that not only flatters your figure but also empowers you to embrace your unique style with confidence.
Ready to find your perfect pair of jeans? Explore Mother Denim's best-selling fits at Prefontaine and elevate your style and comfort today!