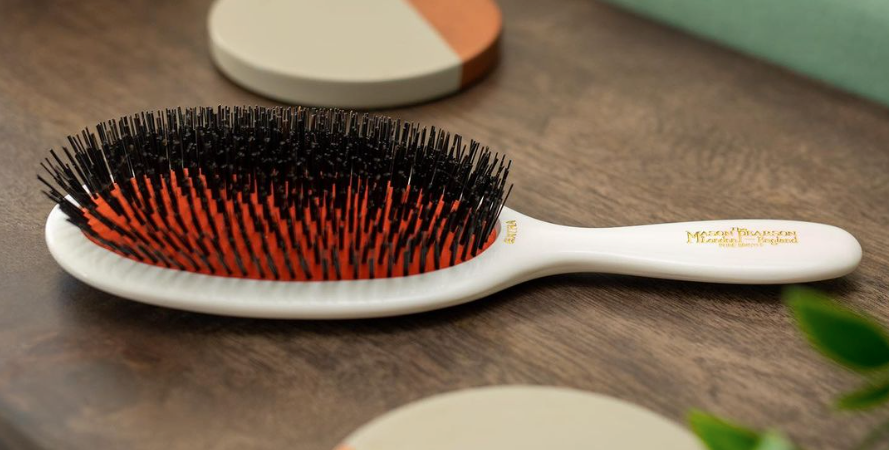 Tips and Tricks for Properly Using and Maintaining Your Mason Pearson Hair Brush
Maximize the Benefits of Your Mason Pearson Hair Brush
Mason Pearson hair brushes are known for their exceptional quality and performance in maintaining healthy and beautiful hair. To make the most of your brush and ensure its longevity, it's important to use and maintain it properly. Here are some valuable tips and tricks for effectively using and caring for your Mason Pearson hair brush.
Brush with Care
When using your Mason Pearson hair brush, it's important to approach it with gentleness and care. Start by gently detangling any knots or tangles before brushing through your hair. Avoid aggressive pulling or tugging, as it can cause unnecessary stress and potential damage to your hair and the brush bristles. Use smooth, even strokes and let the brush do the work for you.
Brush in Sections
To effectively brush your hair, divide it into sections. This allows you to focus on one area at a time, ensuring thorough brushing and detangling. Begin at the ends of your hair and gradually work your way up to the roots. By brushing in sections, you can prevent unnecessary pulling and breakage, especially if you have long or thick hair.
Choose the Right Brush for Styling
While Mason Pearson hair brushes are primarily used for detangling and smoothing, they can also be used for styling. However, depending on the desired style, you may need to choose a different brush model from the Mason Pearson collection. For example, the Handy Bristle or Dressing Comb may be more suitable for styling and creating volume, while the Pocket Bristle is ideal for on-the-go touch-ups.
Clean Your Brush Regularly
Proper maintenance is key to ensuring the longevity of your Mason Pearson hair brush. Regularly remove any hair strands trapped in the bristles using a comb or your fingers. To clean the brush, fill a bowl with warm water and a mild shampoo or gentle cleanser. Gently swirl the brush in the soapy water, being careful not to submerge the entire brush. Rinse with clean water and pat dry with a clean towel.
Avoid Excessive Heat
Mason Pearson hair brushes are designed to withstand everyday use and are heat-resistant. However, it's best to avoid exposing your brush to excessive heat, such as placing it near hot styling tools or leaving it in direct sunlight for prolonged periods. Excessive heat can potentially damage the bristles and affect the brush's overall performance.
Store Properly
When not in use, it's important to store your Mason Pearson hair brush properly. Avoid tossing it in a drawer or bag where it can get damaged or collect dust. Instead, use the brush's included cleaning brush or a soft cloth to gently clean the bristles, and store it in a clean, dry place. Consider using a protective brush cover or a designated brush holder to keep it safe and free from damage.
Regularly Inspect the Bristles
Periodically inspect the bristles of your Mason Pearson hair brush for any signs of wear or damage. Over time, the bristles may naturally become worn or misshapen. If you notice significant wear or damage, it may be time to consider replacing your brush to ensure optimal performance and hair care.
H2: Embrace a Long-Term Relationship
By following these tips and tricks for using and maintaining your Mason Pearson hair brush, you can enjoy its benefits for years to come. Treat your brush with care, clean it regularly, and store it properly to maintain its performance and longevity. Embrace a long-term relationship with your Mason Pearson hair brush and enjoy the beautiful results it brings to your hair care routine.
In conclusion, using and maintaining your Mason Pearson hair brush properly is essential for maximizing its benefits and ensuring its longevity. By brushing with care, cleaning regularly, and storing it properly, you can make the most of your brush and enjoy its exceptional quality and performance for years to come.