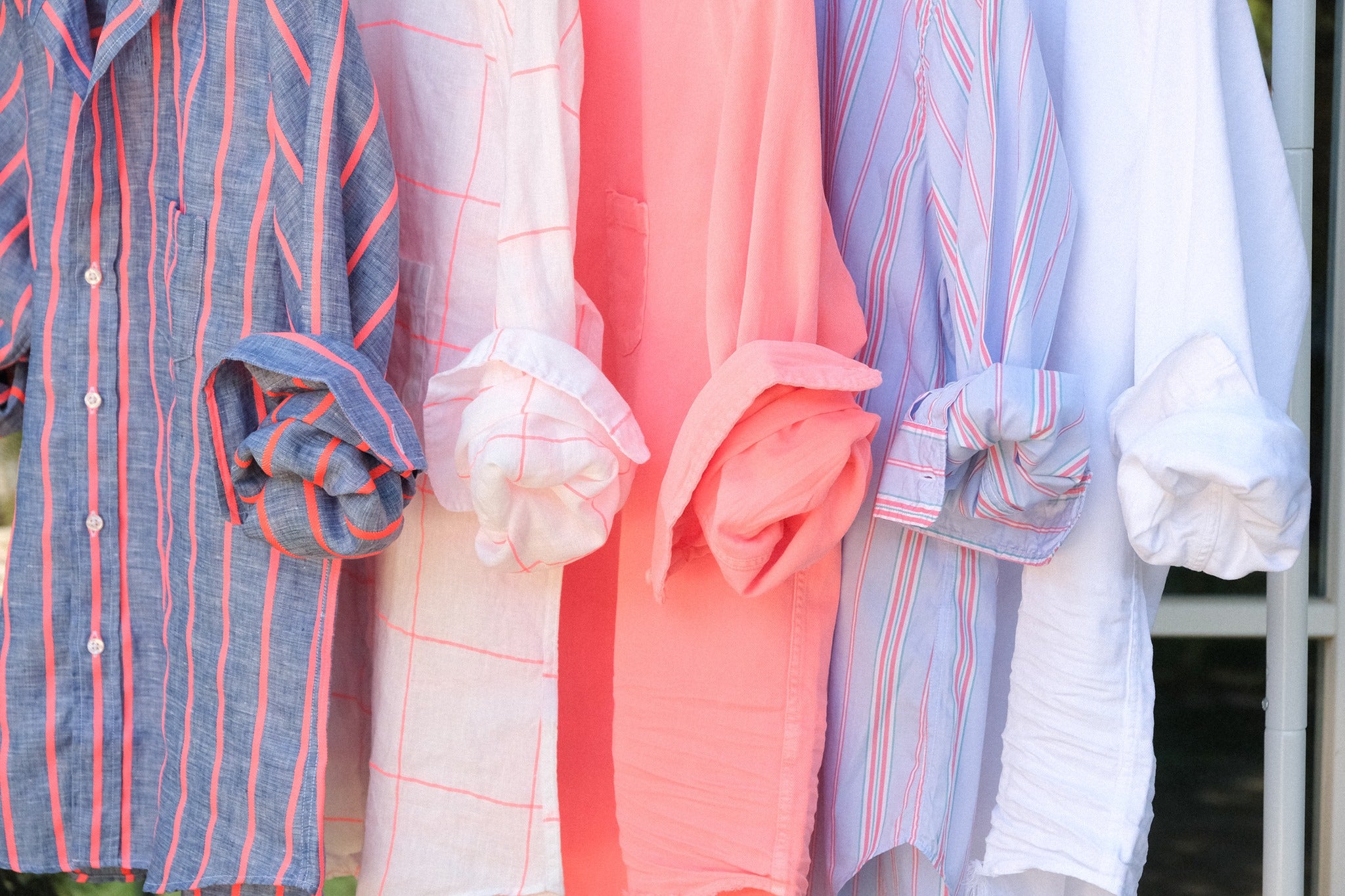 Frank & Eileen's Signature Fabrics: A Guide to Choosing the Right Material for Your Shirt
Frank & Eileen is known for its exceptional quality, timeless design, and commitment to using only the finest fabrics in its products. With a variety of materials to choose from, finding the perfect shirt may seem like a daunting task. In this blog post, we will guide you through Frank & Eileen's signature fabrics, highlighting the unique qualities of each to help you find the ideal match for your style and needs.
Italian Cotton Poplin: The Classic Choice
One of the brand's most popular fabrics, Italian cotton poplin offers a crisp, clean look with a subtle sheen. This lightweight and breathable material is perfect for warm weather or layering under a jacket or sweater. Its versatile nature makes it an excellent choice for both casual and formal occasions.
Italian Linen: Laid-Back Luxury
For a more relaxed, laid-back vibe, look no further than Frank & Eileen's Italian linen. This luxurious fabric is made from the finest flax fibers, resulting in a soft, breathable, and naturally wrinkle-resistant material. Ideal for summer days or tropical vacations, linen is a must-have for anyone seeking comfort and style.
Cotton Chambray: Casual and Timeless
A classic and casual option, cotton chambray is a staple in any wardrobe. Known for its durability and timeless appeal, chambray is a versatile fabric that can be dressed up or down. Its medium weight and soft feel make it perfect for year-round wear, and it only gets better with time.
Italian Cashmere Flannel: Warmth and Elegance
If you're in search of luxury and warmth, Italian cashmere flannel is the ultimate choice. This sumptuous fabric is made from a blend of cashmere and cotton, providing unmatched softness and insulation. Perfect for colder months, cashmere flannel shirts exude elegance and sophistication, making them an excellent addition to any winter wardrobe.
Italian Brushed Cotton: Cozy Comfort
Another favorite for cooler weather, Italian brushed cotton offers a cozy, soft feel with a hint of stretch for added comfort. This fabric undergoes a brushing process, resulting in a plush, velvety texture that is both luxurious and practical. Choose an Italian brushed cotton shirt for a relaxed yet refined look during the fall and winter months.
Italian Voile: Lightweight Sophistication
Last but not least, Italian voile is the epitome of lightweight luxury. This semi-sheer fabric is ultra-soft and breathable, making it perfect for hot summer days or as a chic beach cover-up. With its delicate drape and elegant sheerness, Italian voile shirts are a versatile and stylish option for any warm-weather occasion.
Choosing the Perfect Fabric for Your Lifestyle
When selecting the ideal material for your shirt, consider factors such as climate, occasion, and personal comfort. Keep in mind the specific characteristics of each fabric and how they align with your needs and preferences. By investing in a Frank & Eileen shirt made from a premium fabric that suits your lifestyle, you'll enjoy a timeless, high-quality garment that will become a beloved staple in your wardrobe for years to come.
Caring for Your Frank & Eileen Shirt
Proper care is essential to maintain the quality and longevity of your Frank & Eileen shirt. Be sure to follow the care instructions provided on the garment's label, which may include specific washing and drying guidelines based on the fabric type. By treating your shirt with care, you'll ensure that it remains in excellent condition, preserving its beauty and performance.
Frank & Eileen's range of signature fabrics offers something for everyone, regardless of your style preferences or needs. By exploring the unique qualities of each material and considering factors such as climate, occasion, and personal comfort, you can find the perfect fabric for your shirt. As you invest in a Frank & Eileen shirt made from a premium fabric that suits your lifestyle, you'll not only make a stylish statement but also enjoy a durable, timeless garment that will last for years.
By understanding the characteristics of each fabric and choosing the right material for your needs, you can make a well-informed decision and enjoy the exceptional quality and craftsmanship that Frank & Eileen is known for. Embrace the beauty of premium fabrics and discover the perfect shirt to elevate your wardrobe and enhance your personal style.