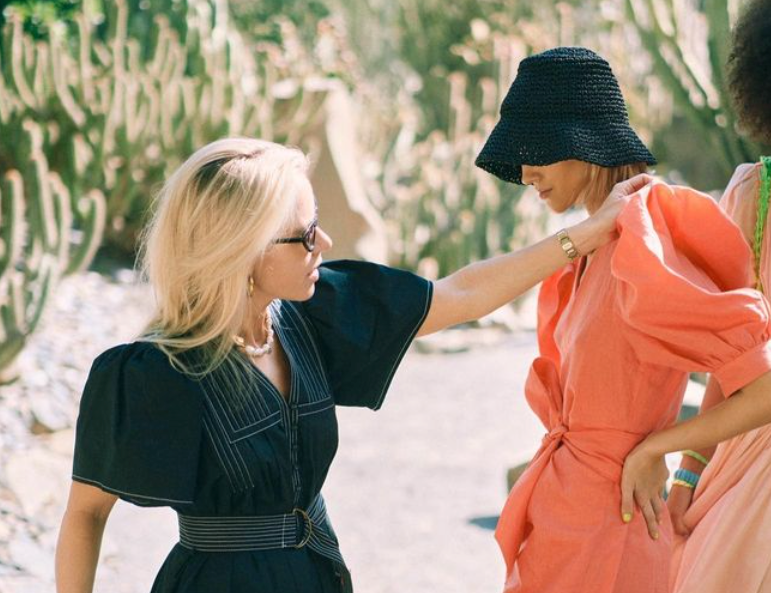 The Best Hunter Bell Pieces to Add to Your Wardrobe
Introduction: Hunter Bell's collections offer a treasure trove of stylish and sophisticated pieces that deserve a place in your wardrobe. This blog post showcases the must-have Hunter Bell pieces that will elevate your style and add a touch of elegance to any ensemble. From versatile dresses to tailored separates, explore the timeless appeal and impeccable craftsmanship of these essential pieces that will become your go-to favorites.
The Little Black Dress
No wardrobe is complete without a little black dress, and Hunter Bell's designs are no exception. Invest in a classic black dress from her collection, featuring exquisite details and a flattering silhouette. Whether it's a sleek sheath dress, a playful A-line style, or a romantic lace creation, a Hunter Bell little black dress is a versatile piece that can be dressed up or down for various occasions. Effortlessly chic and endlessly elegant, this wardrobe staple will never go out of style.
Tailored Blazer
A tailored blazer is a timeless piece that adds polish and sophistication to any outfit. Hunter Bell offers impeccably tailored blazers in a range of colors and styles. Choose a classic black or navy blazer for a versatile wardrobe staple, or opt for a bold hue to make a statement. Whether worn with trousers, skirts, or dresses, a Hunter Bell tailored blazer instantly elevates your look, making it perfect for work, events, or even a stylish everyday ensemble.
Statement Print Dress
Add a pop of personality to your wardrobe with a statement print dress from Hunter Bell's collection. From bold florals to abstract patterns, her designs showcase eye-catching prints that make a statement. Whether it's a wrap dress, a midi dress, or a flowing maxi dress, a Hunter Bell statement print dress adds vibrancy and allure to your style. Pair it with simple accessories to let the print take center stage or experiment with mixing prints for a fashion-forward look.
Wide-Leg Pants
Embrace modern sophistication with a pair of wide-leg pants from Hunter Bell. These trousers offer a contemporary twist on a classic silhouette, creating an effortlessly chic and flattering look. Choose from a variety of colors and fabrics to suit your personal style. Pair them with a tailored blouse or a fitted sweater for a polished ensemble that transitions seamlessly from day to night. With their versatility and flattering fit, Hunter Bell's wide-leg pants are a wardrobe essential.
Romantic Blouse
A romantic blouse adds a touch of femininity and elegance to any outfit, and Hunter Bell's collection features a range of beautiful options. Delicate ruffles, intricate lace, and soft fabrics create a romantic allure that can be dressed up or down. Pair a romantic blouse with tailored pants for a sophisticated office look, or style it with jeans for a more relaxed yet polished ensemble. Hunter Bell's romantic blouses are versatile pieces that effortlessly elevate your style.
Conclusion: Investing in the best Hunter Bell pieces will elevate your wardrobe and enhance your personal style. From the timeless little black dress and tailored blazer to the statement print dress, wide-leg pants, and romantic blouse, these essential pieces showcase the versatility, elegance, and impeccable craftsmanship that define Hunter Bell's collections. These wardrobe staples will effortlessly elevate your everyday looks, whether you're dressing up for a special occasion or putting together a polished ensemble for work.
By adding these Hunter Bell pieces to your wardrobe, you'll have a range of options to create stylish and sophisticated outfits that reflect your individuality. The little black dress offers timeless elegance, while the tailored blazer exudes professionalism and refinement. A statement print dress adds a vibrant and bold touch to your style, while wide-leg pants bring a modern and chic vibe. Finally, a romantic blouse adds a touch of femininity and grace to any ensemble.
The versatility of these pieces allows you to mix and match, creating endless outfit possibilities. Dress them up with heels and statement accessories for formal occasions, or dress them down with flats and minimalistic jewelry for a more casual look. With Hunter Bell's impeccable craftsmanship and attention to detail, you can trust that each piece will not only elevate your style but also withstand the test of time.