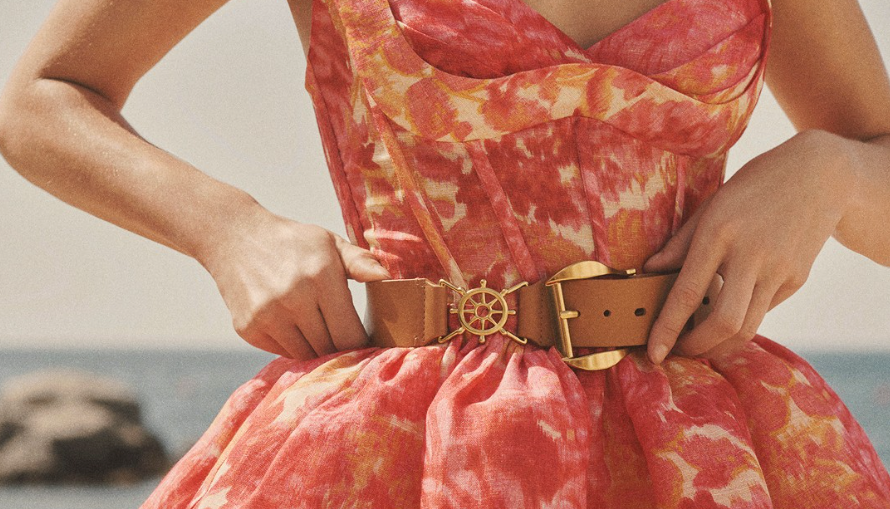 How to Accessorize Your Zimmermann Dress for Different Occasions
Enhancing the Beauty of Zimmermann Dresses
Zimmermann dresses are known for their timeless elegance and exquisite craftsmanship. To make a lasting impression and elevate your style, accessorizing your Zimmermann dress is key. Whether it's a formal event, a summer soiree, or a casual outing, here are some essential tips and ideas on how to accessorize your Zimmermann dress for different occasions.
Formal Occasions: Add Glamour and Elegance
For formal occasions, such as weddings or black-tie events, elevate your Zimmermann dress with glamorous accessories that enhance its elegance. Consider these options:
Statement Jewelry: Opt for eye-catching pieces such as chandelier earrings, a sparkling necklace, or a bold cocktail ring to add a touch of glamour to your ensemble.
Clutch or Evening Bag: Choose a chic clutch or evening bag in a complementary color or metallic finish to hold your essentials while adding a sophisticated touch.
Strappy Heels: Complete your formal look with a pair of strappy heels in a matching or complementary color, adding height and elegance to your overall appearance.
Wrap or Shawl: If the event takes place in a cooler setting, consider draping a luxurious wrap or shawl over your shoulders for both warmth and style.
Summer Soirees: Embrace Effortless Chic
For summer soirees, garden parties, or outdoor events, accessorize your Zimmermann dress with elements that embody effortless chic. Consider these ideas:
Sun Hat: Shield yourself from the sun while adding a touch of sophistication with a wide-brimmed sun hat in a complementary color or a straw fedora for a more casual look.
Sandals or Espadrilles: Opt for stylish yet comfortable footwear, such as strappy sandals or espadrilles, in a neutral or vibrant color that complements your dress.
Woven or Straw Bag: Embrace the summery vibe with a woven or straw bag in a playful shape or design. It adds a touch of texture and personality to your outfit.
Delicate Jewelry: Keep your accessories light and delicate, such as dainty bracelets, layered necklaces, or subtle earrings, to complement the breezy and relaxed feel of your dress.
Casual Outings: Effortlessly Chic
For casual outings or brunch dates, accessorize your Zimmermann dress to achieve an effortlessly chic look. Consider these suggestions:
Denim Jacket: Layer a classic denim jacket over your dress for a casual and cool vibe. It adds a touch of versatility and helps transition your dress from day to evening.
Sneakers or Flats: Opt for comfortable footwear like sneakers or ballet flats for a relaxed yet stylish look. Choose colors that complement or contrast with your dress for added interest.
Crossbody Bag: A small crossbody bag in a complementary color or fun print keeps your essentials within reach while adding a trendy and practical accessory to your outfit.
Scarf or Bandana: Tie a colorful scarf or bandana around your neck, in your hair, or as a belt to add a pop of color and personal style to your casual look.
Evening Events: Sparkle and Shine
For evening events or cocktail parties, add a touch of sparkle and shine to your Zimmermann dress. Consider these options:
Statement Clutch: Opt for a glamorous clutch embellished with sequins, beads, or metallic details. It adds a luxurious touch and complements the elegance of your dress.
Statement Belt: Define your waist and create an hourglass silhouette with a statement belt adorned with crystals, pearls, or intricate designs.
Metallic Heels: Step up your style with metallic heels in gold, silver, or rose gold. They add a touch of glamour and create a cohesive and polished look.
Statement Earrings: Draw attention to your face with statement earrings featuring sparkling gemstones, bold shapes, or intricate designs that complement your dress.
Personalize and Experiment
Remember, accessorizing your Zimmermann dress is an opportunity to personalize your look and experiment with different styles. Don't be afraid to mix and match accessories, play with textures, or add your personal touch to make the ensemble truly yours.
In conclusion, accessorizing your Zimmermann dress for different occasions allows you to showcase your personal style and elevate your overall look. Whether it's adding glamour for formal events, embracing effortless chic for summer soirees, achieving a casual and cool vibe for casual outings, or adding sparkle and shine for evening events, the right accessories can make a statement and enhance the beauty of your Zimmermann dress. Have fun experimenting and creating unique combinations that reflect your individuality.